Müpf
A sunny morning, a walk with the fiesy*. The girls are still slightly sluggish, and so am I. Suddenly…
X: Excuse me ...
Me: Yes?
X after a moment of bashful hesitation: Is this the dog (here she points at Klucha) which is said to be a ruthless killer?
Me: ?
Very much so. The flat mouth, the curvature of an oversized penny bun and the delightful appearance are elements of smart camouflage. Please do not be fooled by appearances: a classic pug is an extremely lively rasp with a mouth that leaves the white shark green with envy. Well, maybe not, but what she certainly does is spread miasmata reminiscent of old, stale socks, which easily qualifies her as short-range biological weaponry.
Such is the image of the Treacherous Bun, who once invaded Chiquita's dwelling territory and stayed put forever.
The pre-invasion story of the Dumpling is so long and full of dramatic twists that it deserves a separate post, so I will limit this narration to the eminent (dis)figure herself.
*fiesy - (home language, endemic) anODDer word for: dogs (PL, plur.: psy)
Kluska is probably the most pseudonimogenic animal in our household. Nenka aka The Evil is also subject to abundant name-calling, but she simply acquires new nicks, while Kluska ..., see for yourselves how far an innocent vocabulary item such as pug can take you.
Mops (a pug in Polish) -> Mipf -> (sublimation of language tones) -> Müpf -> (German diminutive) -> Müpfchen -> Mofiudzi* -> Fiudz -> Fiudzini->Dzifiudzi. In addition, she also recognises Treacherous Bun, Oasis of Delight (refrain from asking please), Kluska, as well as Kluskiewicz, or even Klusex, Old Sock and Stinkilla**. Together with Chiquita, they hail from the same line of despicable trollops and lowdown king-crabs and belong to the same Mendicant Order, and sometimes she is also known as a slow-worm.
In addition, she shares a great number of traits with the snail (the owner's slobbered forehead as a wake-up call, because the slime has decided to position her ugly face over her mistresses skull several times during the night), as well as with docking vehicles, as only our vacuuming robot Mietek is as skillful at the docking process as is the snuggling down Bun.
Sometimes she may be mistaken for a loaf. Or a grub aka larvae, if you prefer.
And now something of which I suspect of 99% of pug owners, namely of having in their phones, hidden from the world (or not), a folder called "Pug's Depression". Here is just a mere sample.
And the greatest hit, a real masterpiece, and I must concede that this photo is attributed to my own sister, M., who still claims that it is her best photograph ever and she would with no hesitation grand herself with the National Geographic award for such accomplished capturing of low emotions. Ladies and gentlemen, I proudly present: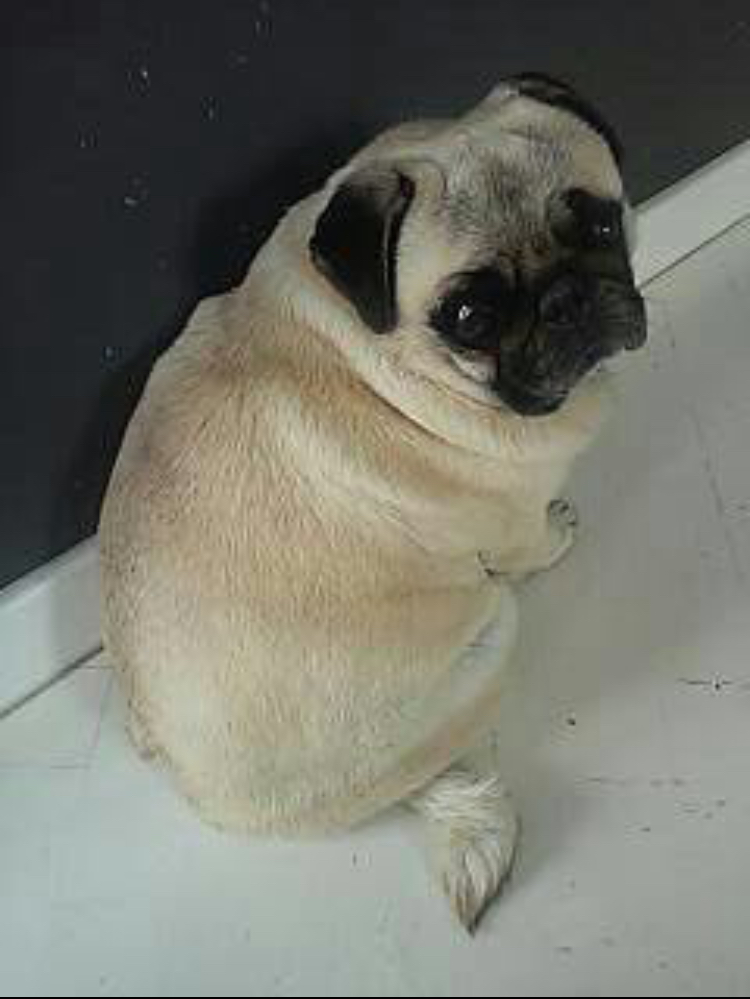 The Treacherous Bun, being an inexhaustible source of stories, will most likely fill this folder with comedy, as tragic comedy she indeed is by nature. Meanwhile, it's about time for the Evil to take the floor.